Monitor and manage your business-critical IT operations.
Network and Server performance monitoring
OpManager Plus
Unified network, server, and application management.
OpManager Plus is an integrated network performance management solution that eliminates the need for multiple monitoring tools and provides greater visibility across the entire network. Packed with advanced network management capabilities for monitoring networks and servers, OpManager Plus keeps track of configuration changes; analyzes firewall rules, logs, and policies; and detects IP addresses and switch ports.
OpManager

Network performance monitoring.
OpManager offers comprehensive network monitoring capabilities that help admins monitor network performance, detect network faults in real-time, troubleshoot errors, and prevent downtime. As a powerful network monitor, OpManager supports multi-vendor IT environments and can scale to fit any network, providing complete visibility and control over the entire network infrastructure.
NetFlow Analyzer

Bandwidth monitoring and traffic analysis.
NetFlow Analyzer, a complete traffic analytics tool, leverages flow technologies to provide real-time visibility into network bandwidth performance. It enables admins to collect, analyze, and report on what their network bandwidth is being used for and by whom. As a powerful bandwidth monitoring tool, NetFlow Analyzer can optimize the bandwidth usage of over a million interfaces worldwide, apart from performing network forensics and network traffic analysis.
OpUtils

IP address and switch port management.
OpUtils is switch port and IP address management software that helps network engineers manage their switches and IP address space with ease. With its comprehensive set of over 30 tools, OpUtils helps network engineers perform network monitoring tasks like detecting rogue device intrusion, tracking bandwidth usage, monitoring the availability of critical devices, backing up Cisco configuration files, and more.
Firewall Analyzer

Firewall rule, configuration, and log management.
Firewall Analyzer, agentless log analytics, and configuration management software, helps network administrators understand how bandwidth is being used in their network. Firewall Analyzer is vendor-agnostic and supports almost all open-source and commercial network firewalls from popular vendors such as Check Point, Cisco, Juniper, Fortinet, Palo Alto Networks, and more.
Network Configuration Manager

Network change and configuration management.
Network Configuration Manager is a multi-vendor network change, configuration, and compliance management (NCCCM) solution for switches, routers, firewalls, and other network devices.
Network Configuration Manager helps admins automate and take total control of the entire life cycle of device configuration management.
Application Performance Monitoring
Applications Manager

Server and application performance monitoring.
Applications Manager is an application performance monitoring solution that proactively monitors business applications and helps businesses ensure their revenue-critical applications meet end-user expectations.
Applications Manager offers out-of-the-box monitoring support for over 100 applications and servers.
Site 24x7

Full-stack monitoring for IT admins, DevOps, and SREs.
Site24x7 offers unified cloud monitoring for DevOps and IT operations. Monitor the experience of real users accessing websites and applications from desktop and mobile devices. In-depth monitoring capabilities enable DevOps teams to monitor and troubleshoot applications, servers, and network infrastructures, including private and public clouds. End-user experience monitoring is done from over 90 locations around the world and various wireless carriers.
AlarmsOne

Centralized IT alert management.
AlarmsOne enables admins to centrally manage alerts from all of their IT management tools. AlarmsOne consolidates IT alerts and intelligently groups them based on host, network device, application, database, and more. It gives deeper visibility into each alert to minimize downtime and maximize performance.
Site 24x7 StatusIQ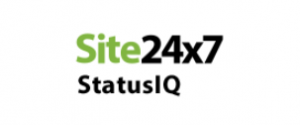 Status pages for real-time status and incident communication.
StatusIQ is a status and incident communication platform for modern software teams. It helps organizations effortlessly communicate service disruptions, planned maintenance, and real-time statuses to their customers and end-users. The product comes with a customization option that helps StatusIQ users customize their status page, and add a personal touch to their customer conversations on the status update.
Need Help Managing your ICT Infrastructure ?
10 Infinity have been acknowledged with several awards for our extinguished services